On 24 November, the River Kwai Bridge Week and Kanchanaburi Red Cross Fair 2017 will start! Until 3 December, Kanchanaburi will be the scene of a wonderful festival to remember the history. The Red Cross Fair will be held at Klip Bua Stadium in Mueang district, while the festivities for the Bridge week are, of course, at the bridge. Kanchanaburi already has so much to offer it is definitely worth a trip, but during the River Kwai Bridge week, you can enjoy some fun extras.
History
Kanchanaburi is known for its history of the Second World War. It is the place of Death Railway, the Bridge over the River Kwai, Hellfire Pass, the Thai-Burma Railway museum and much more. This festival is a remembrance to that time, and makes it a light event were you can learn a lot. There is a fair where you can enjoy local food and sweets, do some nice shopping and get to know Kanchanaburi. The highlight of the festival is the light-and-sound show that is on every evening. This year, the show present the story of the construction of the Death Railway, in honor of the Prisoners of War who build the infamous railway.
Schedule
On Friday and Saturday, the show will be on at 19:00 and 20:30 hrs. During weekdays the show will only be on at 20:00 hrs. There are 1200 seats available per show, and tickets cost 300 Baht. Tickets can be purchased right before the show or in advance at the Kanchanaburi Provincial Hall.
Red Cross Fair
At the same time as the River Kwai Bridge Week, the Kanchanaburi Red Cross Fair is held at Klip Bua Stadium in Mueang district. Here you can do shopping for local products, but there is also plenty of entertainment. There will be a mini motor show, a concert, cultural performances, and exhibitions from governmental organizations and educational institutions.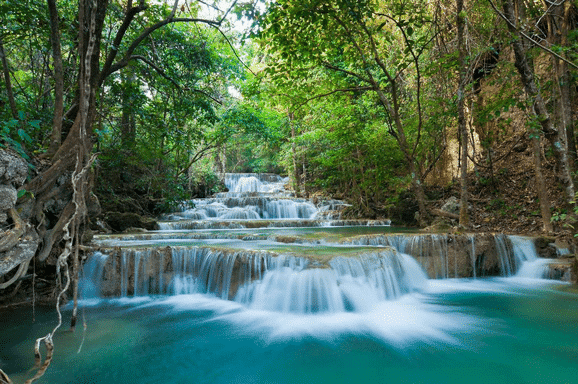 Activities
Besides the events going on, Kanchanaburi has of course many attractions to visit such as: – Srinakharin Dam – Vajiralongkorn Dam – Sai Yok Noi and Yai Waterfalls – Erawan Waterfall – Mon Bridge – Mueang Sing Historical Park – Three Pagodas Pass – Wat Wang Wiwekaram – Underwater City Be sure to check some of those out too, and make the most out of your Kanchanaburi stay!